10 Ways to Use Gift Baskets in Your Business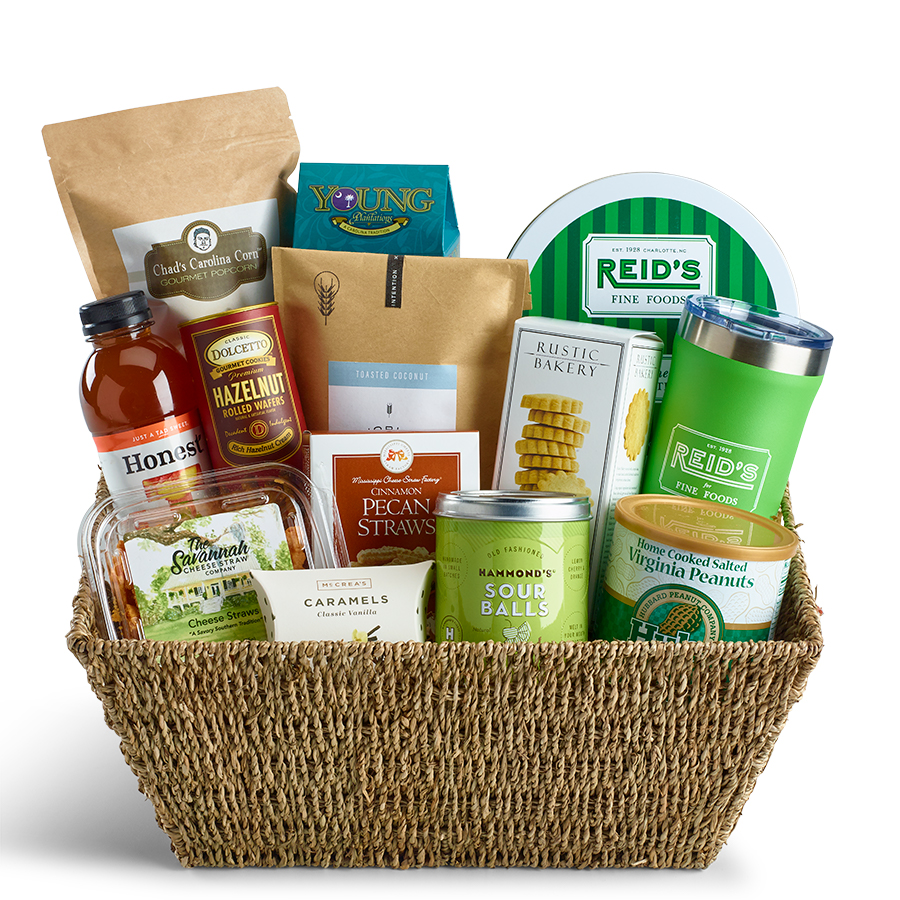 Gift giving is a common occurrence among businesses. In fact, an ASI Corporate Gift Giving Study found that 42 percent of employers plan to give gifts to workers, and more than one-third of companies anticipate giving gifts to prospects and clients.
Corporate gift baskets are the optimal gift choice for businesses in all industries. If you want to do something special for your employees or clients, consider Reid's pre-built or customized gourmet gift baskets.
From small businesses to Fortune 500 corporations, everyone recognizes how corporate gifts can express appreciation and the business's willingness to maintain a prosperous working relationship.
Here are a few ways to use gift baskets in your business.
1. New Client Welcome
Welcome new clients to the business with a gift that is sure to make a lasting impression. Reid's Specialty Gift Basket is an obvious choice when onboarding new clients. This polka dot basket is filled with Reid's signature products, such as cheese straws, trail mix, chocolate chip cookies, and more. A gift basket is the perfect opener when getting to know new clients and sets a positive tone for a mutually beneficial business relationship.
2. Employee Promotions
Show your top-performing employees that you recognize their devotion to the company with a gift from the gourmet marketplace. Promotions and other employee milestones are certainly a reason to celebrate and a good job well done deserves an extraordinary gift. Our Something Special Gift Basket will surely sweeten the occasion. This basket includes an array of goodies, such as cheddar popcorn, vanilla shortbread cookies, sour drops, vanilla caramels, and other delicious treats.
3. Thank You
There are many occasions on which a business may want to say, "Thank You!" For example, an Airbnb Superhost may want to thank their guests for choosing them as their host may leave an attractive gift basket to show their appreciation. What better way to accomplish this task than by leaving a Reid's Rise & Shine Breakfast Gift Crate near the door to welcome guests when they arrive. The crate includes a range of tasty breakfast goods, such as a premium coffee blend, cocoa chocolate mix, pancake waffle mix, maple syrup, blueberry rolls, grits, and several other items.
4. Client Anniversary
There are several industries in which client experience is everything, particularly businesses where business owners and clients must work together to achieve a satisfactory outcome. Wealth management is one field where the business-client relationship is usually long-lasting. Celebrate your client's anniversary with your business by delivering an unexpected gift, such as Reid's Premium Gift Basket which contains more than a dozen gourmet snacks neatly arranged in a wicker basket.
5. Training Program Completion
Many businesses go above and beyond to provide employees with an extensive training program where they can learn the ropes and enhance their skills and knowledge base. This process can extend for several days, weeks, or even months, such as police officers who must go through a formalized certification course at a policy academy before entering the workforce. Once the industry-specific training program has been successfully completed, show your gratitude with a gift. Reid's Gift Box is an excellent option, featuring tasty treats like cheese straws, chocolate chip cookies, toffee, trail mix, and Reid's 5 O'clock Crunch.
6. Personal Achievements
You don't have to wait for a business-related event to arise before showing your employees or clients that you care. Take note of their personal achievements. Perhaps an employee recently completed a degree program, purchased a new home, or reached another personal milestone. A gift shows that the business is invested in its employees' happiness and health. Maybe a client recently welcomed a new baby to the family. A new bundle of joy certainly calls for a Baby Welcome Gift Basket, Reid's Baby Boy Wagon Gift, or a Baby Girl Bassinet Gift Basket.
7. Special Recognition
There are times during the course of business that an employee will go the extra mile. Some employees may work extra hours or on holidays to help the business complete an important project or achieve a critical goal. On the rare occasion, an employee may save another employee from harm or prevent a crime from occurring that could have harmed the business. When these types of events occur, the employee should be provided with special recognition. After expressing your gratitude in person, give the gift of a Super Stacker. Reid's Super Stacker includes a stack of goodies like cheese straws, chocolate covered pecans, chocolate chip cookies, and other delicious treats.
8. Retirement
When it comes time for an employee to retire after years or even decades of dedicated service, they deserve to know how much they are appreciated. Take an ordinary retirement party to the next level by providing a lavish gift basket on behalf of the company. Reid's Celebration Wine Gift Basket features an array of treats in an attractive basket. The retiree can enjoy premium snacks like crackers, artichoke dip, chocolate covered pecans, peanuts, Blood Mary mix, hazelnut wafers, and much more.
9. Good Performance
Many businesses struggle with retaining employees, especially in a post-COVID-19 world. Today, employers must take extra measures to ensure that employees know that they are appreciated. Invest in your employees by providing the occasional gift for good performance. Some businesses may find it beneficial to give all well-performing employees a gift, while others may choose a more luxurious gift for just one top-performing employee. Delight your employee's sweet tooth with a Sweet Treats Gift Basket.
10. Illnesses or Injuries
When a dedicated employee is not feeling their best, help put a smile on their face with a gift basket. A Get Well Soon Gift Basket is the perfect addition to a hand written note when your employee has suffered an illness or injury that has kept them away from work. This basket contains bone broth, chicken pot pie, tea, lemon drops, and other goodies your employee can enjoy to improve their health and spirit..
Shop Gift Baskets in South Carolina
There are many great ways to use gift baskets in your business. Choose from one of Reid's pre-packaged gift baskets in Charlotte or create a custom basket with any combination of goods, including your own branded items.