7 Custom Gift Basket Ideas to Wow Your Clients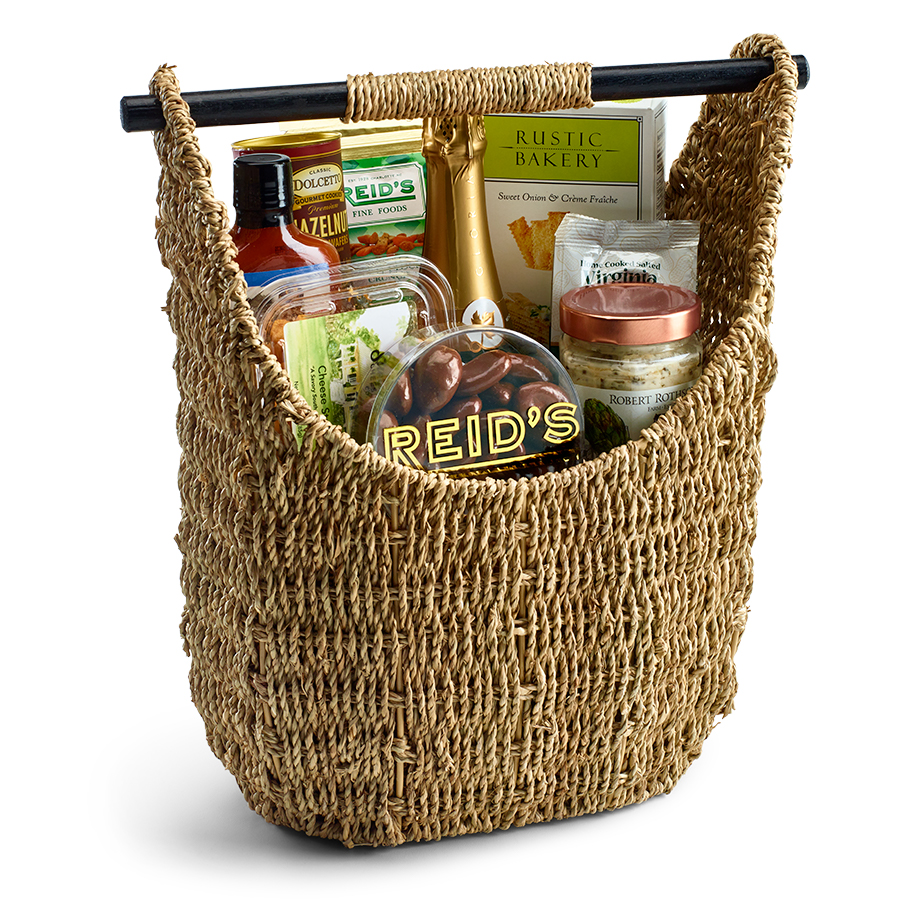 Sending a token of your appreciation to clients, customers, and vendors is always a good idea. At Reid's Fine Foods, we offer a wide range of corporate gift baskets designed to impress.
Whether you choose one of our designs for our website or come to us with a special theme, we're here to make it happen. In fact, our team is always looking for new and exciting styles to help showcase your business in a positive manner with our unique corporate gifts.
So, what new ideas have we had lately? Here are seven excellent custom gift basket ideas to impress your clients.
1. New Home Gift Basket
If you're a realtor, insurance agent, title company, or homebuilder, you might consider sending clients gourmet gift baskets after closing.
Include little necessities, like a wine bottle opener, gourmet coffee, or even flavored chocolates. Other themed elements like a fun keychain, dish towels, or other items all pair well together to send the message that you're glad they found their new home.
Best of all, we can add your branded items to our baskets to create a cohesive look. Plus, we can add anything else you find in our gourmet marketplace, such as a favorite snack or treat you already know and love.
2. Chocolate Lovers Gift Basket
Have a client that you know is a big chocolate fan? Consider having our team create a specialty chocolate lovers gift basket.
We can add nearly any variety of baked goods, candy, or coffee in our stores. Think items like our cheese straws, chocolate chip cookies, and more. As a bonus, we can even add chocolate covered nuts, truffles, and other delicious treats.
This also makes a good corporate holiday gift basket idea, where the contents might be spread amongst several employees or placed in a break room for enjoyment by all.
3. Team Pride Gift Basket
If it is one thing we love here on the coast, it's our collegiate sports teams. No matter who you're rooting for, our gourmet gift baskets in South Carolina and North Carolina are always a big hit.
Just let us know your preferred team and we'll create an entire gift basket around the theme. We can even add other items to the mix, like hats or drink koozies. Finally, we pair it all up with a chic basket and snacks ideal for munching on while rooting on the team.
In addition, these gift baskets are also ideal for creating giveaways or raffle items for your favorite causes like scholarship or team fundraising.
4. Wine O'Clock Gift Baskets
Sometimes there's plenty of reason to celebrate and that's where a wine-themed corporate gift basket comes in handy.
Maybe one of your sales reps just closed a big deal or an employee is retiring after many decades of service. A special gift basket with a selection of wines from our marketplace is an excellent way to show your appreciation and congratulations.
To make this even more exciting, all you must do is choose a few of your favorites from our extensive collection. Not sure where to begin? Ask our team for help and we would be happy to make a recommendation. We can even include a pair of glasses and a bottle opener in the package with the appropriate cheese pairing.
5. Dinner On Us Gift Basket
There are numerous reasons why you would want to send someone dinner. Maybe you're a contractor who just finished a kitchen renovation for a big client. Or you have a new employee who just moved to the area and might need a few essentials to fill up the pantry.
Let us help you come up with a gift basket that includes everything necessary to whip up a delicious meal. For example, we could add a package of gourmet pasta, our famous Reid's red sauce, wine, and more. Then we'll package it in a bright green colander.
There are tons of possibilities here that make the whole idea super memorable and fun. We're always open to client ideas, too! So be sure to let us know what you think should go in this type of gift basket.
6. Gift Baskets Showcasing Charlotte
Of course, we're particularly fond of the Queen City. After all, we're known throughout the Carolinas as a leader of fine gourmet products and wines. If you have someone who is just visiting the area or recently relocated here, our southern-inspired corporate gift baskets make an excellent welcome.
Let us fill one with local products like grits, cheese straws, and other regional favorites. We'll place the items in a pretty basket, finishing it up with a bit of non-edible local flair like a guidebook or other special trinket.
Remember, we can customize these baskets to include your own products or branded items, too. Think of it as your way to extend a warm welcome to the Carolinas for those close to your organization.
7. Girl's Night Out Gift Basket
If your business primarily caters towards women, then you might consider a girl's night out basket. Bottles of champagne, chocolates, and an ultra-feminine aesthetic are ideal for those in the beauty industry, home decor, or any other industry you know that caters primarily towards women.
The goal with any corporate gift basket is to stand out while including items that you know the recipient will love. That means this option is super appropriate for those moments when you want to congratulate or acknowledge women in a fun and empowering way. Again, don't forget you can customize a gift basket as much or as little as you wish!
Quality Custom Gift Baskets from Reid's Fine Foods
Whether you're looking for a whimsical corporate gift basket to impress customers or want something to raffle off at your next banquet, our highly creative team at Reid's Fine Foods is here to make it happen. Please visit one of our locations to discuss ideas, prices, and details or to place a corporate gift basket order.