How Gift Baskets Can Improve Your Business ROI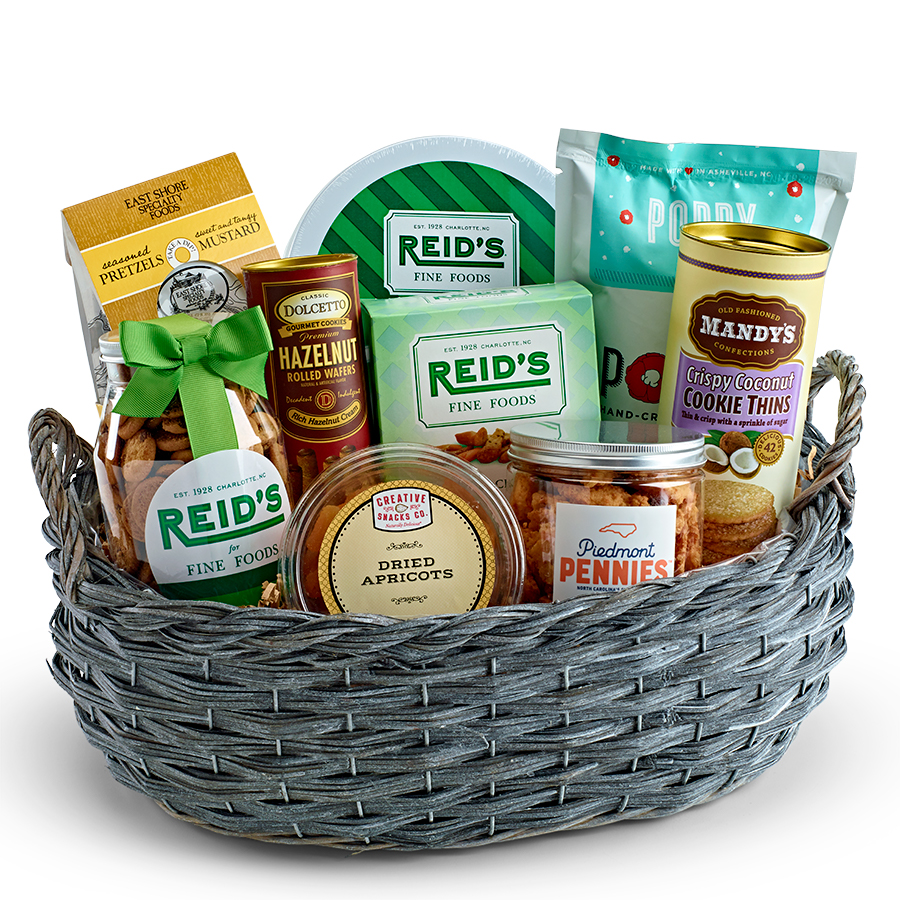 Corporate gift baskets can be a great way to show customers and clients you appreciate their business. It keeps your company or brand top of mind and fosters customer loyalty, which ultimately can contribute to your bottom line. Regardless of what you're looking to accomplish by giving a corporate gift, the key is to give the right gift.
What You Give Matters
Giving the wrong gift can defeat the purpose of giving one in the first place. Imagine spending time selecting the best gourmet food gifts for important clients only to learn later that they are vegan. When you give a corporate gift, take the time to be thoughtful with a gift that is appropriate.
Examples of Impactful Corporate Gift Basket to Give
As you consider corporate gift baskets for businesses in Charlotte and the surrounding areas, here are several tips to help ensure you achieve an ROI on every investment you make.
#1: Celebrate Relationships and Milestones
One of the best ways to get the most with corporate gift baskets is to use them to celebrate milestones. Ensure that those who receive them know just how much you value their business. For example, if they have been your customer for the last 10 years, make a point of giving one of Reid's popular North Carolina gift baskets to thank them for their loyalty. It reinforces the importance of their role in your company's success.
#2: Source the Very Best and Unique Items for the Gift Basket
Here's the real key to making an impression. When you want to impress a client or business partner, take the extra time to find something unique. Check out Reid's gift baskets filled with goodies that are locally sourced or made in house. They represent the favorite flavors of the Carolinas and your recipient will remember you for the special gesture.
#3: Be Consistent with Your Giving
If you want to establish a gift giving program, be sure you put in place a system that works and is consistent. For example, you may have a customer that you work with just once a year. Send them an annual gift basket to remind them of your business. Give corporate gift baskets to mark anniversaries, welcome new employees, and clients, or celebrate milestones. The opportunities to keep your business top of mind are endless!
#4: Show Gratitude for Their Business
Giving gifts of thanks is always an important strategy. Perhaps you've just closed a new deal with a company and want to thank them. Giving a corporate gift is a meaningful way to show gratitude. It helps to stretch your brand a bit farther. Sending a happy hour gift basket is a fabulous way to say, "thanks for this opportunity" when establishing a new business relationship.
#5: Find a Way to Add a Personal Touch
To make any corporate gift matter, make it personal. The best ROI comes from making a meaningful connection with the person receiving it. Perhaps they visited your location and loved a specific type of food or enjoyed a particular experience. Find a way to bring that into the gift basket you put together. It shows that you really did pay attention to the details. A personalized gift like this helps to bring a smile to a person's face and goes a long way in making a strong impression.
#6: Give Thanks for Referrals
Give a gift basket to a company that may be sending business to you on a regular basis. Perhaps their relationship with your organization has always been a good one. Or you may want to tap into a new relationship to connect with their network. By creating a gift basket that is meaningful and personalized, you'll show that you're serious about building a good relationship with the company. Include a personal letter offering your thanks for their referrals.
Make Gift Baskets Count
Used strategically, a simple corporate gift basket can do one of the most important things for your business - increase sales and leads. It can help you to maintain relationships with companies for much longer and generate brand loyalty. Remember, there is always competition for your customers' business. When you take extra steps like giving a thoughtful corporate gift, you increase the chances of remaining top of mind, differentiate your brand from competitors, and continue to grow your business. Let Reid's Fine Foods help you create corporate gift baskets that give back.