Reid's Fine Foods in South Park Charlotte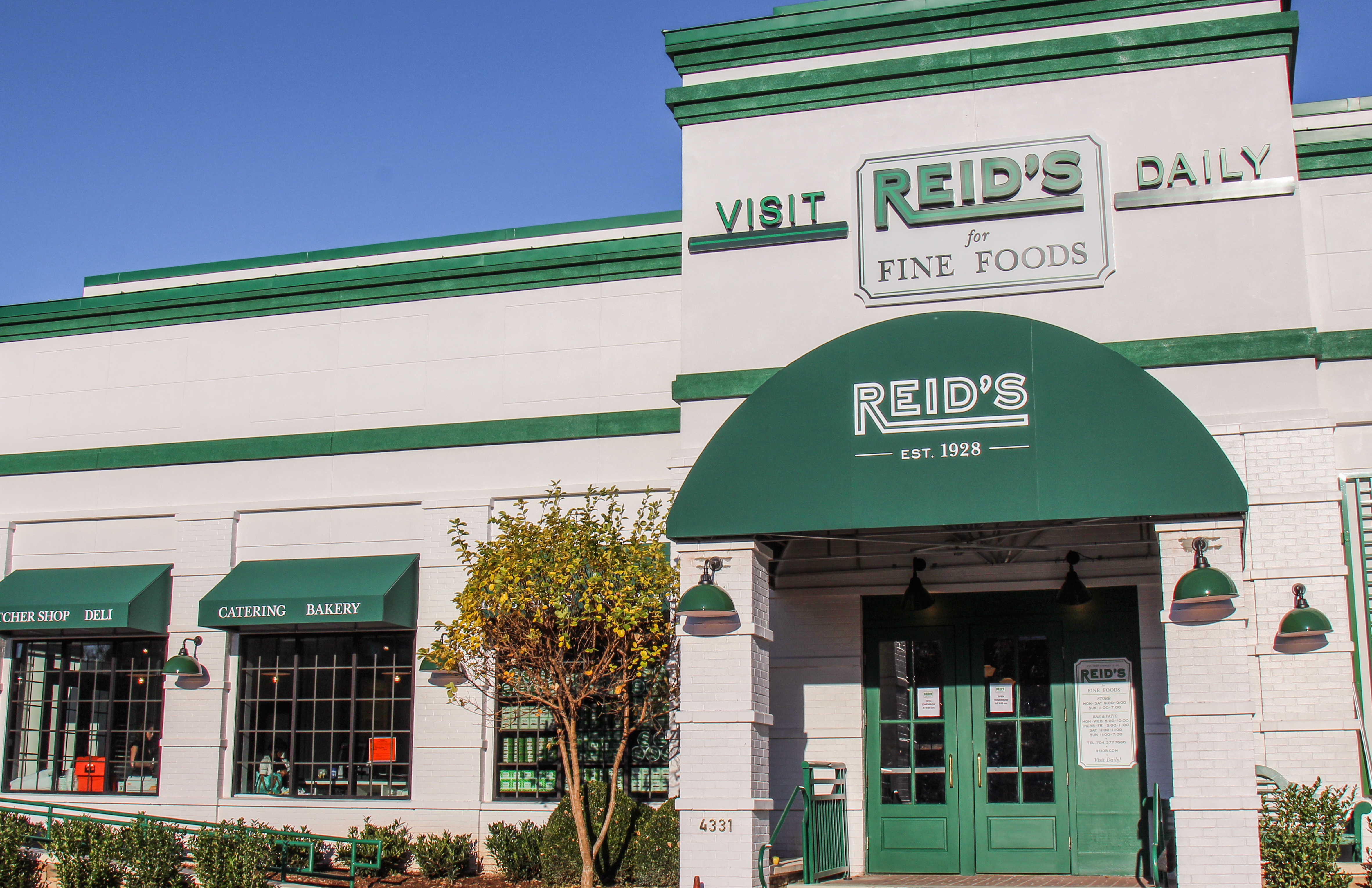 Charlotte's South Park area is known for its upscale mall, luxury boutiques and shops, and high-end dining establishments. Located roughly 6 miles south of Uptown, the neighborhood offers convenient access to more than shopping and dining. World-famous golf course Quail Hollow Club, which has been the site of many PGA tournaments, is just a few minutes away. Numerous parks, greenways and walking trails are also located close by.
Those looking to enjoy the best restaurants in Charlotte can find plenty of options in South Park. Reid's Fine Foods, a gourmet marketplace specializing in high-quality foods and beverages, offers an exceptional dining experience. Whether you're doing some shopping at SouthPark Mall or enjoying a stroll in nearby Symphony Park, stop by Reid's when you're looking for somewhere to eat.
Breakfast
Reid's Fine Foods offers a delicious breakfast menu that is available Monday through Saturday from 7am to 10:30am. Create your own breakfast from Reid's impressive selection of meats, cheeses and breads, or order an entree that comes with fresh fruit or crispy potatoes. The menu includes classics such as buttermilk pancakes and Western omelets, as well as Reid's Nashville Hot Chicken Biscuit and Cinnamon Babka French Toast. Add some caffeine to your breakfast with a cup of white mocha latte or Reid's drip coffee.
Lunch
As a gourmet deli, Reid's has a fine selection of lunch meats to fill you up on the spot. Stop by for lunch, which is offered from Monday through Sunday from 11am to 7pm. Create your own salad made with locally grown produce, or order from the salad menu with options such as berry salad, Reid's house salad, and Greek salad. Reid's lunch menu also includes sandwiches and wraps. Create your own sandwich, or order a wrap or sandwich from the menu, such as spiced tomato hummus wraps or Reid's ham and brie sandwiches.
Dinner
When you're exploring your options for restaurants in South Park, consider Reid's Fine Foods. Reid's dinner menu is available on Tuesdays from 5pm to 9pm, Wednesday through Saturday from 5pm to 10pm and Sundays from 11am to 8pm. Enjoy a gourmet smoked salmon or truffle prosciutto pizza, or try an entree, such as the low country crab cakes or teriyaki ribeye. Gourmet sandwiches, salads, and small plates are also available.
Brunch
Reid's is the place to go for Sunday brunch in Charlotte. The brunch menu, which is available on Sundays from 11am to 2pm, includes salads, starters, and entrees. Order tuna poke tacos or calamari fries to start with, followed by a berry French toast casserole or Nashville chicken and waffles as your main entree. A kids' brunch menu is also available with selections such as waffles, pancakes, burgers, and pizza.
Wines
Reid's Fine Foods has a wide selection of wines available at all price points. Choose from high-end wines or value wines depending on your preferences. You'll find red and white wines from California, Oregon, and Spain, as well as Roses from France. Buy a glass, or purchase a bottle to bring home.