Wine Bar Charlotte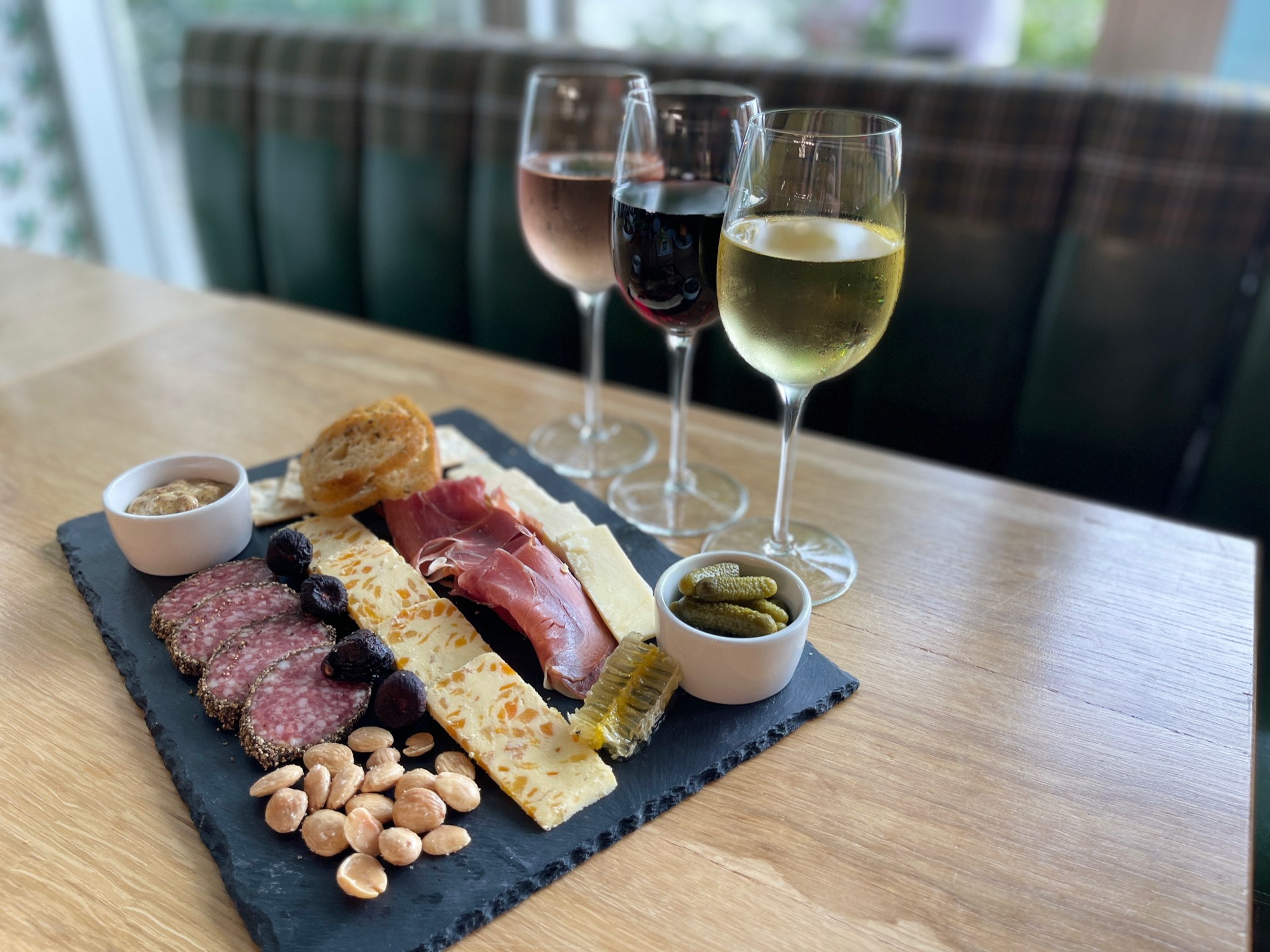 Reid's Myers Park: Where wine and our gourmet marketplace share centerstage
For over 90 years, Reid's has been a mainstay in North Carolina, providing loyal customers from all walks of life with an inviting atmosphere, tasty takes, and Southern delicacies. From prime cuts of meat perfected by our experience in-house butcher to locally sourced produce to prepared meals that make a casual night in or fancy dinner party for a crowd easier than ever, our gourmet marketplace was designed with your tastebuds and satisfaction in mind.
And now, we've extended our vision to include a wine bar. Whether you're a dedicated oenophile who can sniff, sip, swirl, savor, and then pinpoint the exact vineyard where a wine got its start or a relative newbie who just loves a glass of vino after a busy day, Reid's Myers Park is the perfect place.
Meet the best wine bar in Charlotte
Our wine bar is not necessarily what you'd expect to find inside a gourmet market in Myers Park, but once you discover the welcoming magic of this hidden oasis, you'll know you've discovered something special.
From the marble countertops and experienced staff to the large selection of wines waiting to dance across your palate, this is one spot that's a treat for both the eyes and for your pocketbook. Choose a wine by the glass and delve into a single serving of something from our BTG wine list carefully curated by our in-house sommelier. Looking to enjoy a few glasses of wine or share a bottle with friends? Purchase any bottle over $25 in our retail wine shop and you can enjoy it at your table.
Eat, drink, and be merry at our wine bar in Myers Park
Of course, as you're reveling in the soft bubbles of your Leyla Blanc de Blanc Champagne or crooning over the perfectly balanced tannins in your San Simeon Cabernet Sauvignon, it's only natural that you might get a bit peckish. Enjoy small plates, like our cheese and charcuterie board or truffle fries.
Reid's restaurant in Myer Park also serves breakfast, lunch, dinner, and dessert. Stop in after work or on the weekends for supper and enjoy one of our signature dishes. Enjoy our Rustic Italian Flatbread paired with a spicy-meets-earthy glass of Chianti Riserva, or go for dessert and see how beautifully rich our Chocolate Truffle Dome tastes when you wash it down with some port or a glass of Paso Robles Cab.
Thanks to a corporate executive chef who has a thirst for life and a healthy imagination, our menu is always evolving, using seasonal ingredients. Keep an eye on our site and be the first to sign up for one-of-a-kind wine dinners or make your reservation for seasonal and special event menus that are tasty on their own but reach next-level deliciousness once you uncork the right bottle of wine as an accompaniment.
Keep in mind, our Myers Park wine bar doesn't just have an amazing wine selection, we also offer a full bar, including beer, craft cocktails, and non-alcoholic beverages, so all of our guests can enjoy a drink that's just right for them.
Ask about our Happy Hour deals and weekly specials, too! Monday through Saturday from 4-6pm we're treating our awesome customers to special pricing on beer and cocktails, and you never know what might come out of our kitchen to satisfy the munchies while you toast the week and catch up with your friends.
To ensure you have a seat at one of the best wine bars in Charlotte, call Reid's Myers Park today and make a reservation.
Visit our South End and Uptown Charlotte, N.C. locations and enjoy more of our amazing gourmet offerings!