Grocery & Marketplace in Greenville, SC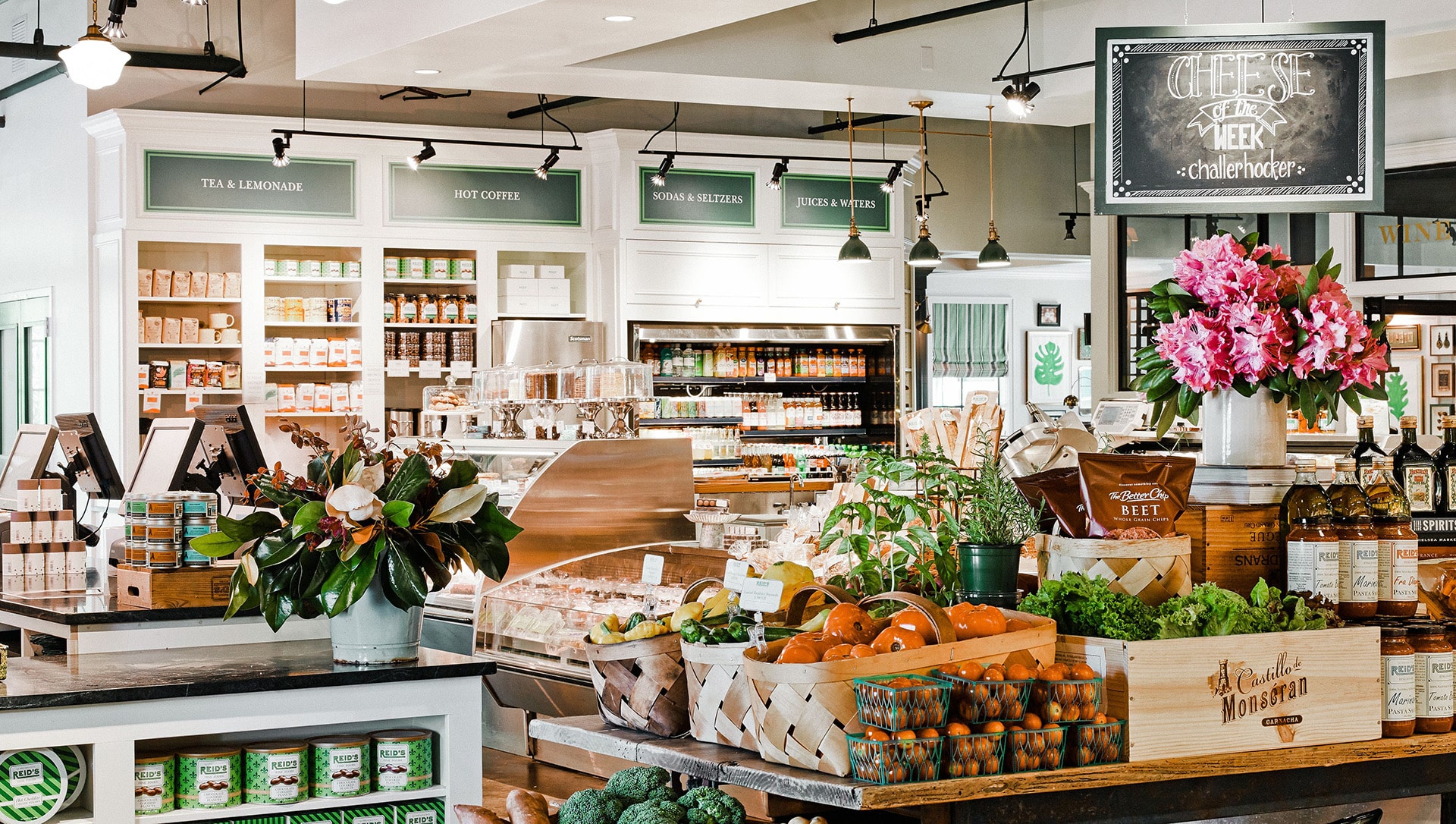 Shopping for groceries is something we all must do. Why not make it a celebrated experience that you enjoy? Thanks to the friendly service at Reid's Fine Foods, you can. Ourgourmet market in Greenville offers a wide array of the best fresh meats, cheeses, produce, bakery items, and gourmet products available. In fact, there is something for everyone to enjoy!
Specialty Bakery & Private Label Foods
Whether you're craving a traditional Southern recipe that your grandmother used to make or just want to see what we have to offer, our specialty bakery is here to oblige. We offer everything from fresh baked bread to custom cakes for special events, placing a high emphasis on quality, flavor, and enjoyment. If you're in the mood for something different, be sure to check out our private label snacks and more.
Butcher Shop & Produce Selection
We take pride in the wide variety of gourmet products we offer at Reid's Fine Foods. That's why we are happy to provide our customers with the highest quality meats, seafood and fresh produce from many local suppliers in our full service butcher shop. Quality and customer satisfaction are our priorities and we're always looking for the best options for fresh fruit and vegetables, based on availability in addition to season. Please check with us frequently or make a request with our staff.
Take-Home Meals for Convenience
Want to enjoy a gourmet meal at home, but don't want to heat up the kitchen? We completely understand! Reid's Fine Foods offers many of your top favorites as prepared or frozen take home meals. These healthy and delicious dinners are ideal for those nights when you've had a hard day at the office or need to shuttle the kids to and from practice. Our prepared food items are an excellent option when you are short on time but don't want to sacrifice flavor or quality.
Wine and Beer Selection
Reid's Fine Foods is proud to offer a wonderful selection of wine and beer at our marketplace. We offer everything from mesmerizing merlots to awesome ales, giving you the opportunity to choose a favorite or try something new from around the globe. Our expert team is always on the lookout for new and exciting options, so make sure to check with us frequently to find exotic flavors or special offers.
Gift Baskets
Congratulating friends on their new promotion or welcoming a new baby to the world is simple with a gourmet gift basket from Reid's Fine Foods. Not only do we select only the best gourmet food, snacks and other goods to add to these collections, but we also spend extra time ensuring they look beautiful in a stunning artisan arrangement. From whimsical designs that truly show you care to elegant wine baskets, we have just the right gift to suit the special occasion. Order online or visit us in store to find the perfect gift basket!
Corporate Gifts
Thanking clients and showing team members that you appreciate their effort is simple with corporate gifts from Reid's Fine Foods. We take pride in curating collections designed to impress, which means only the finest items make it into our baskets. Let us handle all the details for orders ranging anywhere from a singular gift to multiple holiday arrangements.
Learn more about our catering services for large events, and stop by our restaurant and deli department, serving breakfast, lunch and dinner.